1967
Founders Ken Berry and Dolph Rempp rent a bass guitar to a Mitch Rider & the Detroit Wheels recording session at Hollywood's Paramount Studios. Both men seize the opportunity and form Studio Instrument Rentals opening our first storefront in Los Angeles.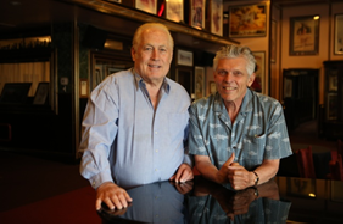 L-Ken Berry, R-Dolph Rempp -2017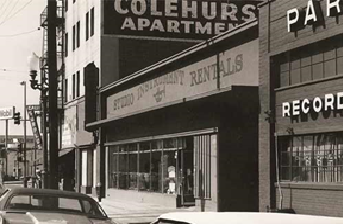 SIR's first storefront (Los Angeles)
1971
Ken & Dolph recognize the explosion of music in the Bay Area and open an office in San Francisco. They ask Michael Johnson who was working for them at the Los Angeles facility to manage this new effort. San Francisco became a quick favorite to many of the major record labels and soon we were working with a who's who of artists of the time such as Crosby, Stills, Nash & Young, Dave Mason, Grateful Dead, Jefferson Airplane, Tower of Power, Santana, and the Pointer Sisters.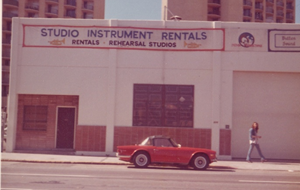 San Francisco 1972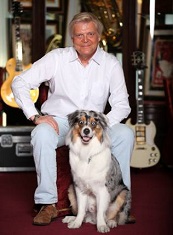 Michael Johnson -2017
1974
Expansion heads east to New York City. Michael, having solidified the San Francisco office is sent to start up our next venture. Within a few months Michael meets Bo Holst, a struggling musician who happened to, one day, walk past Michael having a hard time loading a truck. Bo offered to help, was hired, and sent off in a van to pick up a PA system which he brought back for the brand new rehearsal studios. Over 40 years later, Bo now runs the show in New York. Customers who started with us then and still support us are Steely Dan, Joan Jett & the Blackhearts, Bruce Springsteen, and Roberta Flack.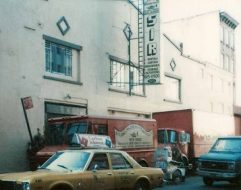 SIR NY's West 52nd Street location, early years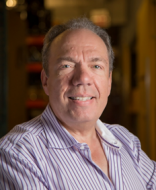 Bo Holst-2017
1977
Nashville is the next stop on SIR's journey and Music City was a perfect fit. Its original location on 5th Avenue South and its proximity to Music Row allowed easy access to many top Country, Gospel and Contemporary Christian musicians and soon SIR was a household name in Tennessee working with artists like Eddie Rabbit, Amy Grant, Vince Gill, Ronnie Milsap, Crystal Gayle, Dolly Parton, and Waylon Jennings.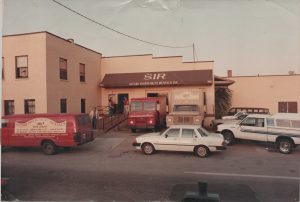 SIR Nashville's original location on 5th Avenue South!
1984
Fred Rose starts in the rehearsal department for SIR LA working with artists such as Mötley Crüe, The Go-Go's and Tina Turner, later to become a dispatcher and eventually Operations Manager.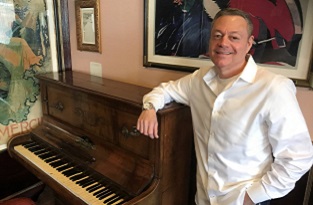 Fred Rose-2017
1986
Ralph Petrosino starts in New York's Rehearsal Department after a 6 month internship at SIR while attending the Institute of Audio Recording. From there, he will move on to the drum department for 15 years and is eventually promoted to Production Manager, a position he still holds today over 30 years later!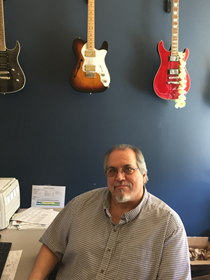 Ralph Petrosino -2017
1988
Laura Ford starts at SIR Nashville as office manager; a few years later Laura becomes SIR's first female General Manager, a position she still holds today – nearly 30 years later!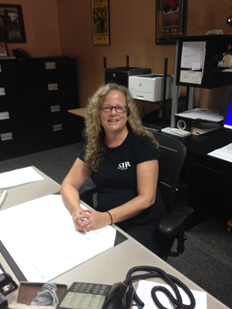 Laura Ford- 2016
1991
Dan Rempp starts off at SIR dividing his time between the Los Angeles and San Francisco offices. He officially joins the team full time in 1996 and becomes responsible for the San Francisco office as well as overseeing most of SIR's newest West Coast operations.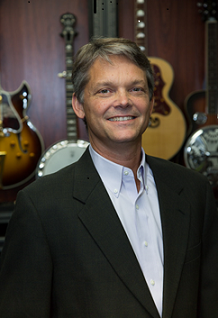 Dan Rempp -2017
2000
Our Miami location is established as we expand into south Florida. The Latin Music market along with major cruise lines and the Caribbean help to round out a diversified customer base that includes Disney World, Gloria Estefan, Pitbull, Enrique Iglesias, and Phil Collins.  General Manager Joe Kernich, who began with SIR New York in 1982 as a driver and then dispatcher, eventually moved to Florida as General Manager for the Miami office and remains there to date.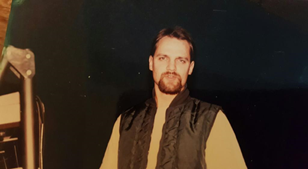 Joe Kernich, wrapping cables at the China Club in New York in the mid eighties
2001
SIR Seattle and SIR Las Vegas open to expand SIR's network to new markets.  Supporting the robust Casino and special event industry in Las Vegas is now one of our specialties.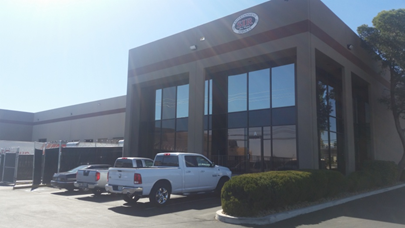 SIR Las Vegas 
2003
SIR Phoenix opens, introducing our Service, Integrity, Resources motto to the South West.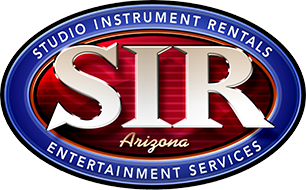 SIR Arizona
2005
SIR sees a need for backline in Southern California and opens in Palm Springs servicing the Southern California casinos and golf courses. That same year, San Diego opens with just 4 amps, 4 keyboards, and 3 sets of drums in their inventory. Since then we've more than tripled our rental offerings for the growing live music and festival scene. Some of our very first clients in the area were The San Diego County Fair at the Del Mar Fairgrounds, CRSSD Festival, and musical acts such as Boston, Joan Jett, and Bruno Mars!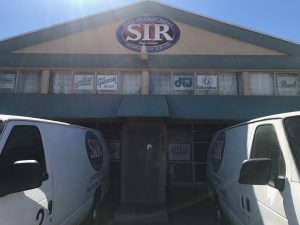 SIR San Diego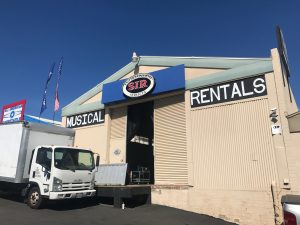 SIR San Diego
2007
A new location in Southeast Portland grows the SIR roster. Portland is fortunate to work regularly with many of the area's historic venues- The Crystal Ballroom, Revolution Hall, The Aladdin Theater, and The Wonder Ballroom!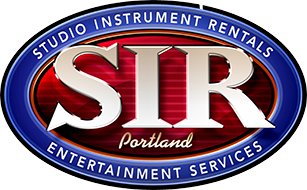 SIR Portland
2008
SIR opens in the mid-west by acquiring, oddly enough, a company called Mid West Rentals. In 2011, SIR Chicago moved from the original location in Morton Grove, IL to Montrose Avenue in Chicago and, eventually, our current building on No. Kedzie. SIR is in position to support our many customers in and around the Windy City as well as our friends traveling through the area. We are happy to support Chicago's music community of historical venues such as Schuba's, The Bottom Lounge, and the Vic Theatre, to the many summer outdoor festivals and television shows like Steve Harvey and Empire!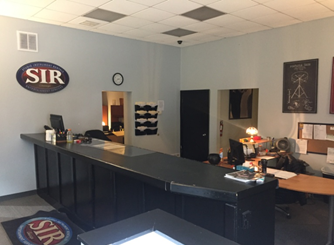 SIR Chicago
2009
SIR Stage37 opens its doors in NYC for corporate events and large scale rehearsals. Located near the Javits Convention Center this 13,000 square foot space has hosted rehearsals such as Mary J. Blige, Lady Gaga, The Rainforest Project, and Mariah Carey along with special events for Volkswagen, Absolut Vodka, Microsoft, Johnny Walker Brands, KIA and more.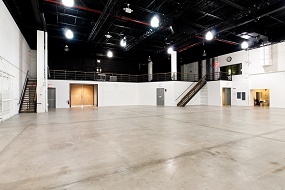 SIR Stage37 -a blank canvas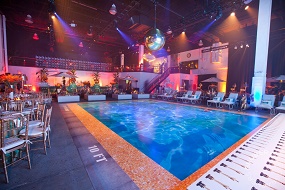 Private Party transformation of the space
2017
SIR USA celebrates our 50th year in business!  SIR USA receives a 50 year milestone award from the Industry's largest trade show, NAMM, and artist well-wishes pour in from long time artist friends from over the years!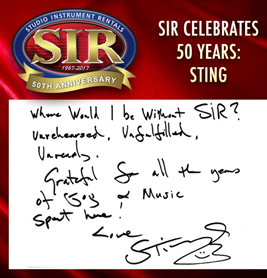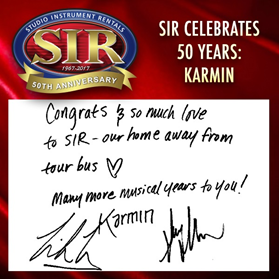 SIR USA
2017
SIR expands to Texas.  SIR Dallas opens for business in the Lone Star State
SIR Dallas